Running a startup is about breaking new ground, trying to make a mark and travelling on the less travelled road. On this journey, you will be joined by many passengers, some of which may leave and prove not very helpful. But the passenger that will stay with you along the ride and help you grow is branding. Let's talk about what is essential – branding!  
What is the importance of branding for a startup? 
The mere existence of your brilliant product or service will not amount to anything if your target audience is unaware of it. Through branding, you introduce your products and services to the customers. Also, as per an Adobe survey, over 60% of Indian consumers have started supporting new businesses over more prominent players after COVID-19. It's about time you put this to your advantage by adopting a sound branding strategy and attracting consumers.   
Jay Baer aptly defines– "Branding is the art of aligning what you want people to think about your company with what people do think about your company. And vice-versa".  
Branding becomes all the more crucial when you are a startup, as few people know your brand offering. It sets you apart from your competitors. Branding is a challenging exercise yet worth every ounce of labor.  
What should the branding process entail? 
Through a creative process, branding does require a framework to adhere to every single time. Thus, a well-thought plan is undoubtedly crucial. Below is a list of factors to consider while branding your product or service-  
The product itself 

 

Logo 

 

Vision statement 

 

Website 

 

Marketing strategy 

 

USP 

 

Brand story 

 

Target group 
Some brilliant tips that lead to better branding for startup companies 
     1. Identify and understand your market
Let's say your product is a sports drink. You can conduct surveys and learn more about your target group's expectations, what flavors they like, and how the consumption of your product helps them. The feedback will help you brand it accordingly and stay in the game. For instance, you are branding for Tech startups, study where the audience interested in technology and grasp their attention. 
     2. Know what's working for your competitors
Adopting and appreciating other market players' branding strategies will foster healthy competition. There will be less chance of failure as you implement what already works. Also, find an answer to – "how can I fill the gaps in my industry". Tap the untapped segment and revamp your branding strategy.  
     3. Find ways to set yourself apart from your competition.
Give a reason to your audience to buy your offering. Your brand should have a unique selling proposition which differentiates you from the rest. And that selling point becomes an integral part of your branding strategies. Don't focus all your energy on the product; look at the Marketing Mix and identify other areas to grow.  
     4. Select a meaningful brand name, color theme and logo
These three justify your vision and goals. You can create your logo and learn about color theory. The yellow color makes people feel hungry, and McDonald's has smartly chosen it as their brand's color theme. Brands like Tiffany & Co. and Post-its have even trademarked their logo colours. Why? Colors leave a lasting impact on consumers' minds, and they can identify the brand packaging and product even if no brand name or logo is mentioned.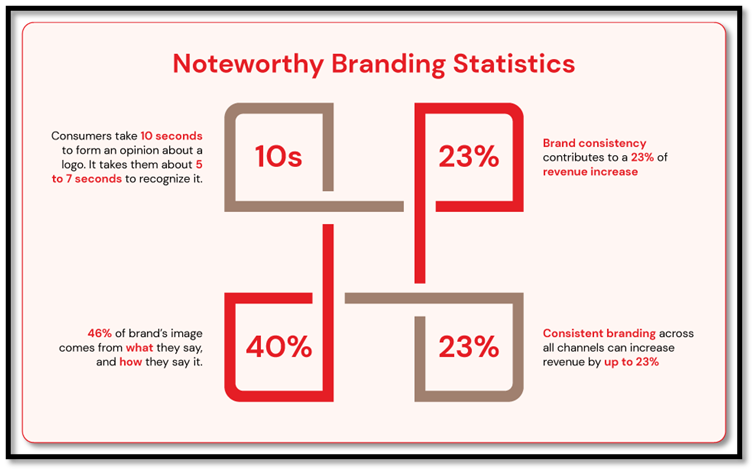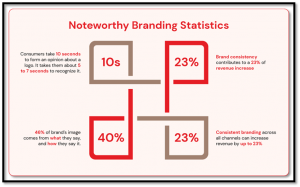 5. Narrate a story; you can convey your values through it.
The key to beautiful branding is engagement; telling a story is the best way to do so. Behind the existence of every business is a reason or an inspiration. Let's say you are selling hair oil, and the inspiration is your grandmother, who gave you head massages. Tell that story, people respond to nostalgia sincerely.  
      6. Stay authentic, be relatable and become an active part of your community.
Try to build on your personality. Paperboat reminds you of childhood through its flavors and by using clever messaging on each pouch that adds a hint of playfulness. Come up with fresh ideas that resonate with your target group and create an emotional appeal. Being a sports drink company, you can sponsor sporting events and engage with your fraternity.
      7. Don't resist change.
If you are in the wrong, don't try to get away. Instead, improve and accept your mistakes. Let's say your product packaging is not suitable for the environment, change that; use biodegradable packaging. Consumers appreciate environmentally conscious brands.   
At the initial stage of a business, more attention is paid to the product and juggling the finances. Branding takes a back seat if left in the hands of the employees. It is a prudent move to consult professionals who can guide you correctly. They will save you from wasting your limited resources on unproven branding methods and customized strategies that suit your startup.  
How to keep building better branding strategies? 
Branding is a continuous process. As long as your brand exists, the branding exists. Evolving is a part of branding because numerous external factors will dictate the market you operate in. Branding Edutech, branding Fintech, branding Fashion & Food, etc. all require different strategies but the basics stay the same. 
Shift your focus from selling to problem-solving. 

 

Rope in ambassadors who share the same values as you do. 

 

Start conversations and increase your network. 

 

Provide brand experiences to make the sale. 

 

Engage renowned experts who will bear testament to your brand quality. 

 

Arrange events to attract a new audience. 

 

Make sure your actions align with your mission statement. 

 

Go where your target group is instead of waiting for them to find you. 

 
How does Granth help you in building holistic branding strategies for your business? 
Branding for startups can be tricky because you are just beginning At Granth, we focus on adopting branding techniques that drive revenue and, at the same time, align with your values. We start by creating a solid foundation by considering your overall business strategy and target customers. We believe in thorough research, and following it, we develop your brand positioning, messaging strategy, and content marketing strategy. By using proven tools, we ensure consistency, purpose and target group appeal are at the core of any plan. High stakes are involved in the sound establishment of a startup; Granth aims to uplift your idea and present it in a meaningful and straightforward way.