Given the nature of our business, we get to interact with a lot of brands and industry leaders. Among the various interesting discussions that we have, something that is discussed more commonly than others is – how can I build a better brand image?
Branding is no stroll in the park, requiring creativity, flexibility and meticulous work. It's done through newsletters, emails, social media posts, websites, etc. Nothing is more detrimental to a business than not communicating the product or service correctly, as the very purpose of starting a business takes a hit. Keep in mind that you do not commit any Language localisation mistakes for the sake of consistency. 
You risk selling your products without a vision and a proper branding strategy. Accurately summed up by Michael Eisner, former CEO of Disney, "A brand is a living entity — and it is enriched or undermined cumulatively over time, the product of a thousand small gestures."   
A successful business does everything from creating memorable branding strategies to delivering on promises. As per Clutch, brands with a strong reputation offer 31% higher shareholder returns. Branding dictates your business ideology and can be easily ruined with one wrong step. Below are a few brand positioning mistakes to avoid-  
1.

Logo that's

inconsistent

with the brand
A logo helps in brand recognition, and it becomes your identity. So, getting it right the first time is better than reinvesting to change your logo. Especially when you are your brand, you should try your best to avoid any personal branding mistake. This is because you are the only representative of your brand and your actions decide the rise and fall of your products and services. 
Avoid using indecipherable fonts, irrelevantly lengthy logo slogans, wrong color scheme and the likes. Logo lays the foundation, and creating a new one is time-consuming, make sure it follows the color guideline and reflects your brand. 
2.

Focusing

on the wrong audience
If you think targeting everyone will help, you are highly mistaken. It is a waste of your resources, and you will end up with a generic brand message that fails to attract an interested audience.  
Ask questions like – where can I find my target group, their budget, and their needs? Answering the above questions will help you hit the right spot.  
3.

Being unclear and failing to keep promises
Being unclear, generic, and over the top will create confusion and mistrust for your brand. If you have enticed your customers with a new launch, a sale, freebies, or anything else, make sure you deliver.   
Losing loyal customers hurts your brand, and they are unlikely to return because you broke their trust. Reward them and make them feel valued. Explain yourself clearly without being verbose. Make sure you communicate with empathy and with the intention of solving their problem.  
It is crucial that your brand values are reflected in your brand messaging. Data shows that 90% of customers conduct research on a company before buying from them. 
4.

Ignoring feedback and complaints
Not owning your branding mistakes could be your worst nightmare. Every brand considers itself the best in the market, and some even ignore the negative comments. Accepting your shortcomings proves to your customers that they are valued, and you are here to serve them.   
Stand out from the herd. Instead of being repetitive, engage with your audience and have a conversation. You can conduct surveys and send monthly newsletters and reminders if the product they are interested in is on sale.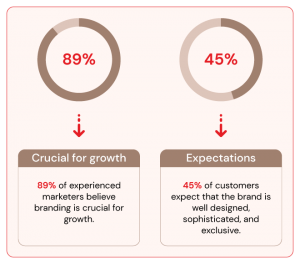 5.

Be inclusive
Even if you are a small business, your reach is unlimited because of the internet. You may think your focus is a niche, but you never know who uses your product. Not just through advertising, but even your team should be from different backgrounds as they bring various ideas to the table.   
Let's say you are a Japanese shampoo brand in India and do not have an inclusive team. Your product formulation is such that it only serves the population, which generally has straight and thin hair (as mostly in Japan). You are missing out on a major chunk of the Indian population, who typically have thicker and curlier hair thereby ignoring a colossal market. Such international branding mistakes can be addressed quickly if you are an inclusive brand.  
6.

Not keeping up with the trends or happenings around the world
Thinking of unique ways to engage with your audience is difficult. Instead of avoiding communicating with them, engage with them through ongoing online trends or current happenings worldwide. Companies like Amul are famous in this respect because they wonderfully add a touch of humor while promoting their brand.  
7.

A disconnect between your brand and future ventures
Brands start with a primary product or a line from a similar category and build upon that foundation. A skin care brand eventually launching vegan makeup seems like a good fit for the brand.   
One of the classic examples of this going wrong is Colgate Frozen Meals. Colgate is a reputable brand in the oral care industry. Still, it venturing into the frozen meals category left everyone scratching their head in confusion. A meal bearing the name of Colgate would result in a loss of appetite. Lucky for Colgate, it was a well-established brand and able to bear the huge loss, but a small business may not survive such a setback. We can easily call this move by Colgate, one of the biggest branding mistakes. 
8.

No consistency across all branding channels
It takes approximately eight touchpoints to convert a lead into a customer. These touchpoints happen on all your online platforms and the brick-and-mortar shop. That is why ensuring all these are in sync is essential. Along with the company logo, content and color theme, promotional material and even the user experience should be similar on all your branding channels. 
Keep your company details like the address, opening and closing times, and contact information exactly the same across all platforms.  

 

Maintain the same visual aspects. 

 

Names of the social media platforms to match with your website. 

 
Instead of trying to fit in, at Granth, we focus on making your organization stand out. Our dedicated team, through their knowledge and available tools, can help you build a distinct and timeless brand. We focus on providing branding services that enable you to create an authentic and compelling connection with your audience. From logo design, social media, web design, digital marketing, and marketing strategy to brand identity, we assist you with all. Our research-based thinking, and in-depth look at consumer trends and markets allows us to provide you with the best branding services.